Nobody can really tell when the next terror attack will happen next. Terrorists often strike in big cities but there are a few isolated incidents where they don't. Well, who knows what these radical extremists have in mind. And because of that, we always have to be on our toes to make sure we are always out of harm's way. Since the public can't always protect themselves from these twisted people, law enforcers must step in to safeguard the rights of the people and prevent terrorists from further terrorizing them.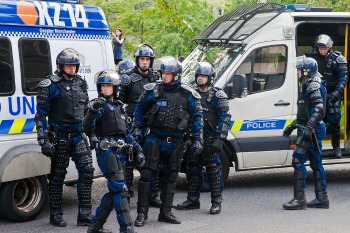 Security forces and law enforcement are on heightened alert because terror attacks are happening more frequently now in various places all over the globe. Many people have lost their lives especially on earlier attacks where law enforcement officers weren't that trained yet to handle such attacks with massive casualties. But things have changed now and law enforcers are doubling their efforts in training their troops on how to act on these attacks without neglecting their daily domestic responsibilities.
After terror attacks in London, Manchester and the Melbourne suburb of Brighton national security was a key issue at last Friday's Council of Australian Governments meeting in Hobart.

The states and territories agreed to strengthen their laws to ensure that there'll be a presumption that neither bail nor parole will be granted to those who have demonstrated support for or have links to terrorist activity. "Violent criminals with terrorist links should not be walking the streets," the Prime Minister said.

ASIO will now share information to help in the assessment of parole and bail decisions. A special COAG meeting will be held as soon as possible to comprehensively review our terror laws. It may consider lowering the bar for control orders on individuals with terrorism links, bans on associating with certain groups and potential bans on internet access. It's unlikely, however, that proposals for a federal maximum security prison for terrorist-linked criminals or a heavily armed federal police presence at airports, would be agreed.
(Via: http://www.afr.com/opinion/columnists/terror-is-a-task-for-all-our-federated-resources-20170613-gwpyll)
As crackdown for these criminals intensify, there are some that actually get caught and eventually put to jail. Aside from training on how to respond to actual attacks while they are on-going, it is also crucial for law enforcers to learn how to deal with them when they are already in police custody, so they can pay for the crimes they have committed. Progressive nations are already on it but some struggling third-world countries still have a lot on their plate mainly because of limited resources.
British police and security services already have some of the most powerful surveillance laws in the world, with weak judicial oversight and little criticism on privacy issues from a public that generally trusts its government and Civil Service.

Surveillance cameras are everywhere, especially in cities, and there are relatively few restrictions on the mass collection of telephone and internet data by the government.

All of which raises the uncomfortable question of what more can be done to prevent the kind of terrorist attack that killed seven people in central London over the weekend. After three terrorist attacks in 73 days, Britain is engaged in a new debate about balancing civil liberties and security, just days before voting in parliamentary elections on Thursday.

It is a familiar dilemma in the United States, where President Trump's effort to restrict immigration from predominantly Muslim countries is blocked by courts, as well as for governments across Europe, particularly in France, which has suffered even deadlier terrorist attacks than Britain in recent years.
(Via: https://www.nytimes.com/2017/06/05/world/europe/london-attack-uk-election.html?_r=0)
Another problem faced by law enforcers aside from the stealth and vast resources these terrorists have (not to mention many extremists are willing to die when cornered) is that online communication has taken terrorism to a different level. These terrorists often recruit new Jihadists online and from different countries too. They even share extremist materials over the web to help them plan and coordinate attacks. This is the challenging part for police enforcers to tackle because there are a myriad of obstacles on the Internet they haven't overcome yet.
For all the parents out there who are concerned over the safety of their children, try to avoid crowded areas and teach your children the basics on what to do when disaster strikes. Of course, the government and the police force try their best to make your surroundings as safe as possible for everyone but we should still do our part in ensuring our own safety when out in public. And in case you hear about something or notice anything strange, don't hesitate to alert the authorities because this kind of grass-roots surveillance is the most helpful of all in apprehending these heartless criminals who use religion as a lame excuse for their pathetic lives.
Law Enforcement Vs. Terrorism Read more on: NC Blog
from NakedConversations.com – Feed https://www.nakedconversations.com/law-enforcement-vs-terrorism/