"All work and no play make a man dull." How true indeed. While it is important to work hard for a living, it is also vital to take some leisurely time off work during your rest day to help you stay sane and happy in life. The daily grind can stress you out and eventually burn you out. It's why you should never hesitate to chill and relax during the weekend, perhaps, or whenever you have some free time to give more meaning and excitement to your life.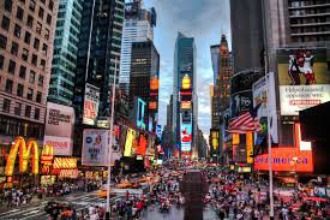 One of the best places to go to is the city that never sleeps – New York. New York has transformed the East Coast into a top travel and shopping destination. But if you are a local, you can easily feel tired from the endless demands of work and the big crowds you meet. To keep yourself grounded, indulge in some me-time or hang out with friends in the newest and largest rooftop bar in the city. It's not necessarily quiet time, I suppose, but it can give you a fresh perspective on having fun in the city and a great way to wine and dine. Just brace for it, though, because you have to wait a few more months before you can set foot in this cool hotspot.
When the Moxy Times Square opens in September 2017, it will boast the largest all-season rooftop bar in New York City, becoming the crown jewel in a city known for its sky-high watering holes with stunning views.

The as-yet-unnamed 10,000-square-foot rooftop bar and lounge will be open every night and will start taking reservations later this summer. Guests of the hotel will get priority access.

A spokesperson for the Moxy said that the bar and lounge will have an "urban amusement park" concept, a DJ, and epic views of the Empire State Building.

The rooftop will have carousel seating, an oversized topiary garden, and a miniature putt-putt golf course. The lounge will have multiple bar and seating areas and a light food menu that will include sausage and peppers, Maine lobster roll, duck carnitas tacos, and hamburgers.
(Via: http://www.travelandleisure.com/hotels-resorts/moxy-hotel-times-square)
Talking about socializing in one of the most famous cities in America and even in the whole world, you should not miss out on this latest New York attraction because it got everything covered. Just a stone throw away from Times Square, Moxy offers you a place to dine and wine that features a garden, mini golf course, bingo, artists and DJ appearances, yoga, and guest rooms among others. The only thing that is lacking is conventional cable or satellite TV because that's so in the past now and online streaming is what's in these days.
A Manhattan rooftop bar is offering guests the chance to drink outdoors in the middle of New York City winter—no heavy overcoats necessary.

Visitors to 230 Fifth can already start experiencing the 360° views of New York City's skyline from the comfort of their very own igloo.

The pop-up structures host up to 11 people at a time, according to Time Out New York, and it's not possible to make reservations. "People generally share them and chat with strangers," a spokesperson for 230-Fifth told Travel + Leisure.
(Via: http://www.travelandleisure.com/food-drink/bars-clubs/igloo-bar-new-york-city)
It's such a liberating feeling being at the top of these cool places in New York where you get to admire the bustling city life at an angle you have never seen before without missing out on all the fun.
There's something about being far above the hubbub of the Big Apple's streets, especially in the summertime, when humidity levels soar and the concrete feels like it's emanating heat waves.

"Being on a New York City rooftop gives you this special pleasure of feeling part of the city, inside it, but at a distance," says Ray Chung, director of design at The Johnson Studio, the firm behind the rooftop lounge at The Wit Hotel in Chicago, among other projects.

"Walking down the streets is one thing, but being able to let your guard down and see the city reduced in size — all the while still breathing the same air and still hearing the buzz of the city — it can be intoxicating," says Chung.

Drinks just taste better 10 stories up, especially when a cool night breeze is blowing.
(Via: http://pix11.com/2017/06/06/new-york-citys-best-rooftop-bars/)
Many people have New York on their travel bucket list for a lot of reasons. What it lacks in space (aside from that of Central Park), it makes up in vertical attractions like penthouse bars and hangouts. Rooftop bars are all the rage in the Big Apple. The view in many of these rooftop bars are to-die-for and really make for a picturesque setting for Instagrammable photos.
You can head to these popular spots by yourself to meet new friends or go out with existing ones to experience what it is like living the high life (literally many stories high) in the Big Apple. If you are a tourist who wants to immerse in the big city life, the best thing to do is to go up in these nice hangouts or simply chill out if you are a true blue New Yorker yourself.
Experience The High Life In New York is courtesy of Naked Conversations
from NakedConversations.com – Feed https://www.nakedconversations.com/experience-the-high-life-in-new-york/