Retail therapy is one of the best feelings in the world. Being able to buy whatever you want, when you want it, if possible, regardless of the price tag is something not many can relate to but it is motivation enough for you to work harder. Unfortunately, shopping these days can be such a drag. Imagine having to drive for hours because of the terrible traffic especially if you live in big cities and the crowd, just the throng of people trying to complete their Christmas list and the long lines aren't pretty thoughts either. Remember that the population is exploding and people often migrate to the cities for better opportunities. But do not let that discourage you from finishing your list and no longer having to worry about missing out anything.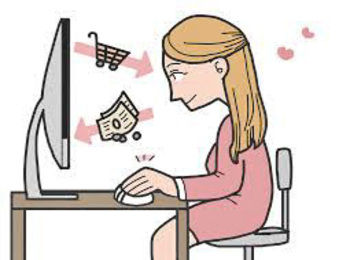 Since we are all preoccupied with technology these days, why not put it to good use? After all, most people now own a smart gadget or two aside from all the other tech devices they have that makes up the Internet of Things. With the help of social media and the Internet, it is easier to do your shopping online than it did in the past. You no longer have to go out and mix with the crowd of shoppers looking for a bargain when most shops have online stores and not to mention huge online shopping destinations like the Amazon, eBay, Walmart, etc. that offers just as many options and discounts with just a click of a button. However, not all are savvy when it comes to these especially older adults who are still trying to find their way as they navigate the vast realms of the World Wide Web and the many mysteries and perils of online shopping.
Always Ensure Your Computer Is Secure
Make sure your system is running with up-to-date anti-virus software, and has the latest software security updates installed. 

Protect Your Privacy
Check the "Terms of Service" and "Privacy Policy" to know what information the website is collecting about you and how the owners of the website will use it. 

Get The Details
Check for expected delivery dates, shipping and handling fees, warranties, return policies and other important information. 

Keep An Eye On The Final Price
Keep an eye on the price and make sure it includes all extras such as VAT, postage and packaging, and insurance if required. Most sites display the price of the product inclusive of VAT. The shipping charge, if any, is added at the checkout stage. This information should be easy to find on the retailer's site. 
(Via: http://www.leitrimobserver.ie/news/christmas-2017/281914/your-guide-to-safe-on-line-shopping-this-christmas.html)
Heed these tips to make online shopping such a breeze for you. You don't always have to be tech savvy when it comes to these things but covering the basics always comes in handy and can save you from a lot of costly headaches that involves replacements and returns among others. Shopping through your computer or smart device may be convenient but just brace yourself for the difficulties you might encounter when there are problems with your purchase. While it is common sense for any online shopper to only buy from legit online shops, the temptation to avail that bargain can be so strong that others end up buying from scammers.
Founder of Scam-detector.com, Sorin Mihailovici said, "So, what scammers do, they go on, on social media platforms. They advertise great products that are real products only cheaper and they would send them to their own duplicate sites."
The key tip while shopping: look up at the URL and make sure it starts with HTTPS.
"So, if they don't have that if the duplicate site doesn't have the https and it only has HTTP, you can rest assured that that's a scam," explained Mihailovici.
Also, look at reviews of a site before buying but do not depend on testimonials on the site itself because those can be fake too.
(Via: http://abc30.com/technology/how-to-ensure-your-digital-christmas-shopping-experience-is-safe-merry-and-bright/2649035/)
Crimes have moved to another platform too – the web. It's no longer surprising as more and more people access the Internet on a daily basis and do lots of online transactions. The risk is high but if you make sure to protect yourself all the time and avoid dubious sites or links or refrain from opening suspicious emails, you'll be just fine.
Since you are paying using your credit or debit card when shopping online, take some extra precaution with your bank as well, so that you are aware of all transactions made using it and you can act right away if anything looks awry. The bottom line here is that a little common sense can go a long way. Whether you shop online or in the real world, there are problems you might encounter along the way. Do your research before placing an online order and double-check everything before clicking that final order button.
Modern Shopping was initially published on NC Blog
from NakedConversations.com – Feed https://www.nakedconversations.com/modern-shopping/