The Philippines constantly makes it to the headlines because of Duterte's war on drugs. Since assuming office, several hundred thousand have surrendered voluntarily while a few thousands who resisted arrest and fought back have died in (legitimate) police operations. This war crusade has caught the attention of the entire world and it's got people divided. Some raise their eyebrows and do not approve of his iron fist implementation of the law but many are actually happy to see these changes happening in the Philippines right now.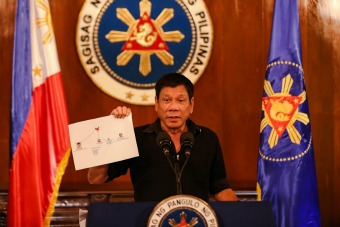 If you ask the majority of the Filipinos these days, they will tell you that they feel safer walking the streets now under his leadership. Even if the drug trade has not been totally obliterated, many things have changed and they credit it all to the strong political will of a leader of Duterte's caliber. Along with his fight against drugs, he is also committed to putting an end to corruption in all aspects of governance, so that the people get what they really deserve from the government. And this drug crackdown is apparently doing the country's economy a lot of good as the Philippines is now the 10th fastest growing economy globally.
President Rodrigo Duterte's death squads may have killed democracy in the Philippines, but they haven't killed the country's vibrant economy, which is the world's 10th fastest growing economy in the world in 2017.

That's according to the World Bank's latest edition of Global Economic Prospects. For 2017, Philippines' economy is expected to advance between 6.5 to 7.5 percent. That's almost twice the country's long-term growth.

GDP Annual Growth Rate in Philippines averaged 3.68 percent from 1982 until 2017, reaching an all time high of 12.40 percent in the fourth quarter of 1988 and a record low of -11.10 percent in the first quarter of 1985, according to Tradingeconomics.com.

The Philippines economy has benefited from a stable macroeconomic environment of low inflation and low debt to GDP ratio, which has helped sustain a healthy domestic demand growth; and from a revival of the Asian Pacific region that have boosted exports, which account for close to a third of GDP. 
(Via: https://www.forbes.com/sites/panosmourdoukoutas/2017/06/20/dutertes-philippines-is-the-10th-fastest-growing-economy-in-the-world/#5824509f5887)
President Duterte is determined to uplift the lives of six million Filipinos living in or even below the poverty line by growing the Philippine economy by as much as 50% within his 6-year term. At the rate it is now going, the well-loved president by the Filipinos may be able to deliver his promise of a 6.5 to 7.5% economic growth this year. There may be threats still especially when it comes to extreme natural disasters that are constantly wreaking havoc to this island archipelago year in and year out.
Economy: Investing in friendship

The Duterte administration's decision to rekindle ties with countries like China and Russia, as well as strengthen friendships with Japan and Korea, has reaped rewards, economic managers said.

Trade Secretary Lopez said the Chinese and Japanese governments alone have committed about $9 billion each in official development assistance. Business-to-business talks have also gone well, with private deals in the works.

"These are not just commitments. Toyota and Mitsubishi have started to produce some of their cars locally and with local content too," Lopez said.

To further expand the economy in anticipation of more foreign investments, the administration is planning a steady rollout of infrastructure projects during its term.
(Via: http://cnnphilippines.com/news/2017/06/28/Duterte-admin-charts-course-for-next-five-years.html)
Alliances are made and some are broken. That's how politics work. While Duterte has not entirely severed ties with the US now that Donald Trump won against Hillary (Clinton – who is an ally of the current Philippine opposition party), it did not stop him from pursuing friendly relations with China and Russia. These new alliances promise new opportunities/ investments and further growth for the economy in the years to come. These nations have even extended a helping hand to the Filipinos who are still battling IS rebels down south in the war-torn city of Marawi.
Foreign experts who have been keeping a close eye on the Philippines for a while now agree that the country is on its way to economic freedom if this positive economic growth continues. Many are also hoping that the ongoing crisis in Malawi, that has prompted the president to declare the entire Mindanao under Martial Law, will not affect how the country performs economically from now on. There is still a lot of work left to do as corruption is still ingrained in every aspect of the government and Duterte has to perform some kind of miracle to wipe out drugs and corruption in the land for good.
The following blog article Duterte Leading The Philippines To Economic Growth was initially published on Naked Conversations Blog
from NakedConversations.com – Feed https://www.nakedconversations.com/duterte-leading-the-philippines-to-economic-growth/